So the other day I was hanging out at Tj Maxx looking at clothes and wishing that they were just fabric on a roll so that I could make something amazing out of them.  This happens more frequently than I care to admit…
anyways…
I saw a pair of super cute tribal leggings and thought "Mands, that would be such a cute pillow.  Or maybe a lampshade."  Then literally light from Heaven shone down on me I was like "WHAT?!?!??  LAMPSHADE!!!  I could use the leggings to cover a lampshade!!  Oh my gosh.  Has anyone done this before?  (insert quick Google search that came up empty) WHY has no one done this before?!"  And then I skipped all the way to the checkout line.
I also rummaged through my underwear drawer for a few pair that I was willing to sacrifice for the sake of project mode.  Because I am motivated like that.

You will need:
Small Lampshade (this one from Target is what I used and it is the perfect size!)

Tights or Leggings in the largest size that you can find (because lets be honest, xs is not realistically going to happen.) If you want some really cute on trend ones check out Forever 21, they have some fantastic patterns!

Hot glue gun

Scissors or Rotary Cutter
Colored lampshades are hard to come by.  I mean, you can spray paint one, but have you ever seen what a spray painted lampshade looks like when the light is on?  It is not good friends.
But tights/leggings?  Freaking fantastic!
First cut the top of the leg off from the body (use the highest point possible to get maximum width!) put your tights over the lampshade.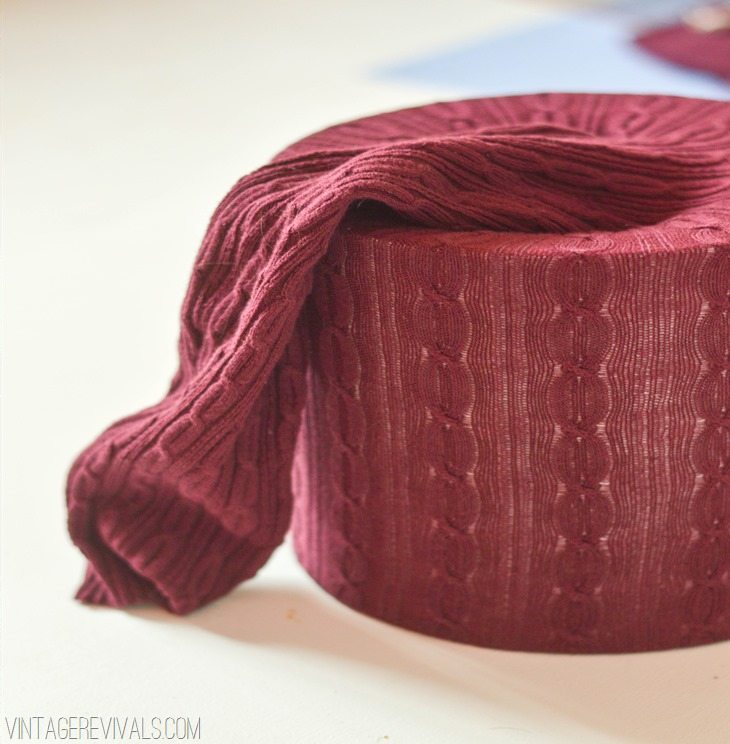 Glue along the edge.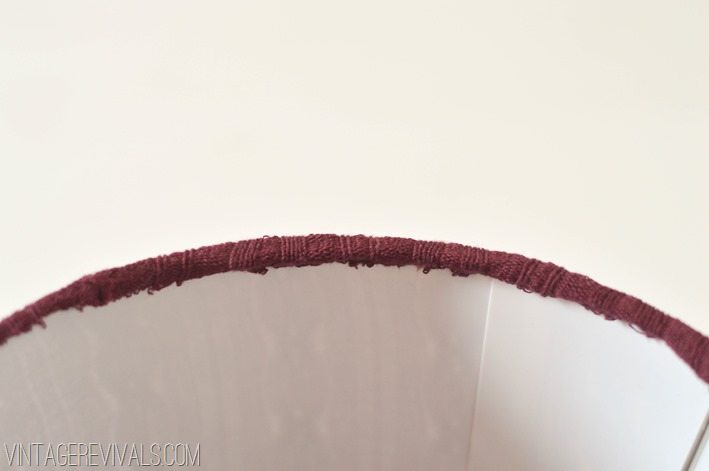 Trim the excess off the top leaving about 1/2" to work with that you can trim off later.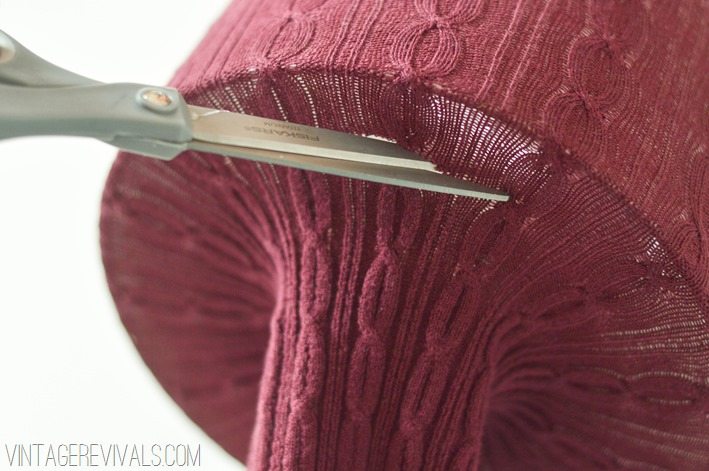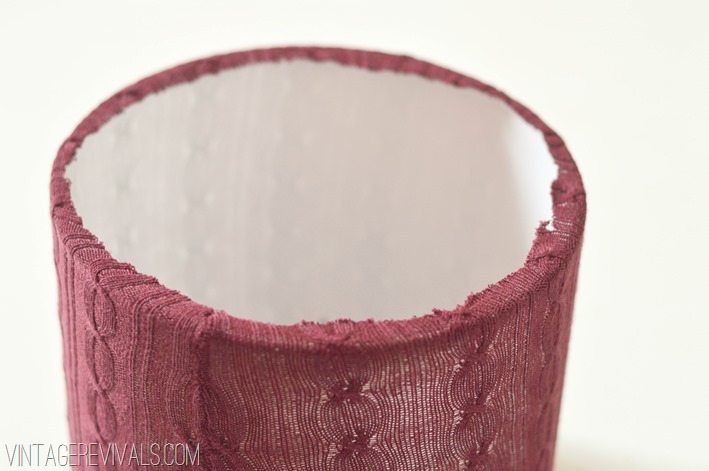 Glue along the edge.
Step back, pat yourself on the back because you my friend, are a genius.
So now that you know the process, let me give you the skinny on the leg huggers.
Nylon Tights work AMAZINGLY well. (You can find the tights that I used for $4.75 here the color is Hot Coral) They will stretch like the day is long.  You might have a little bit of color variation where some is stretched tighter, but I think it looks cool.  To combat it you could run a pencil or something long and skinny between the tights and the shade to loosen the grip up a little bit.  To prevent running you need to cut it with a rotary cutter, so stretch it over your shade and mark where it needs to be cut.  Then take it off the shade and cut it with a rotary cutter.
Cable knit tights work really well too.  They have SO much stretch.  In fact the reason that I decided to use these leggings, is because they get saggy after a few hours of wear, so I knew that there would be zero problem with the stretch.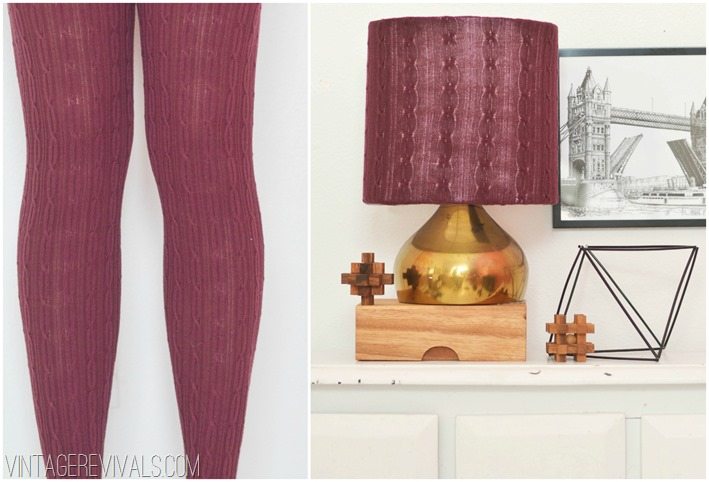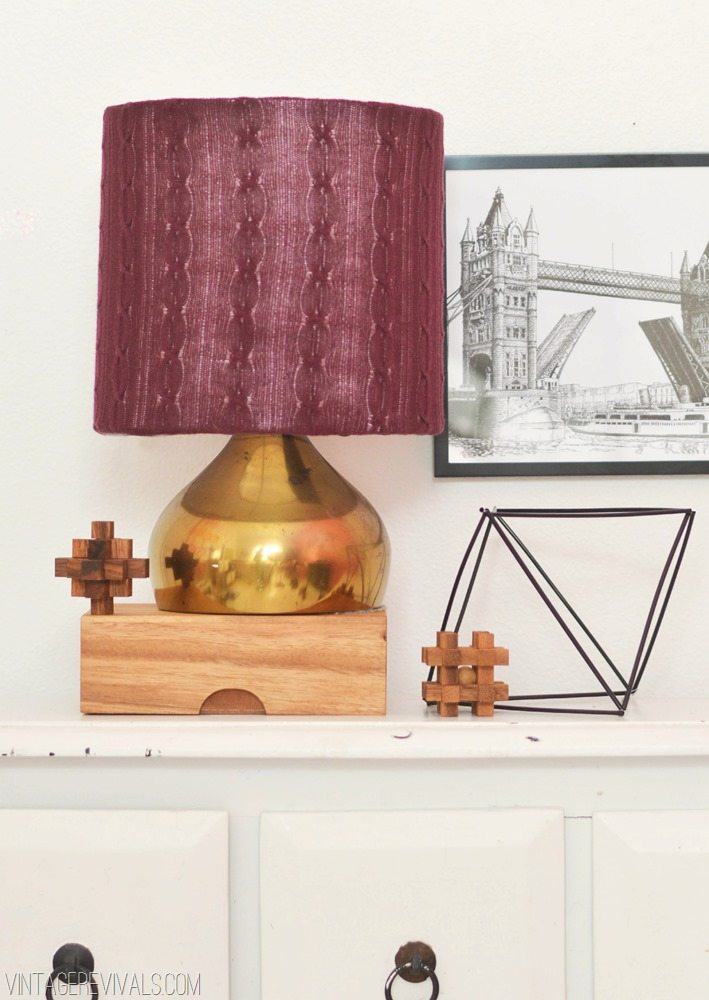 Woven leggings are sort of like a Chinese finger trap.  When I did this the first time, I measured the length of the lampshade and added 4" to it.  After putting the bottom on and about 1/2 of the top,  I was having a hard time stretching the rest of it without denting the shade.  It worked so much better the second time around. So learn from my mistakes and put them on the shade, glue the bottom edge down, then cut the excess off and glue the top edge down.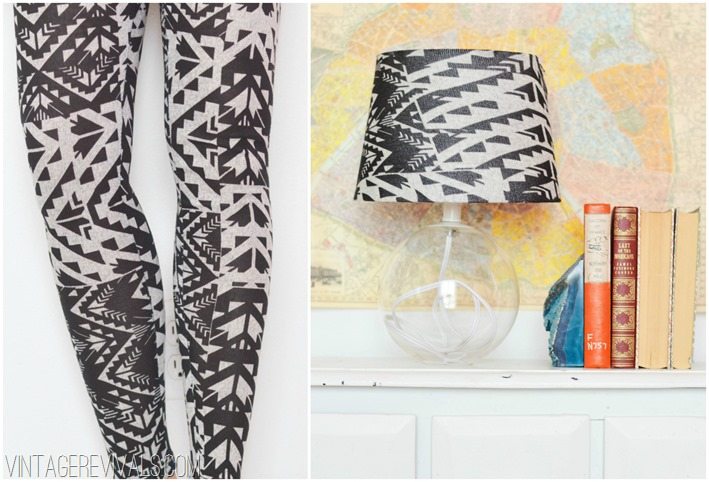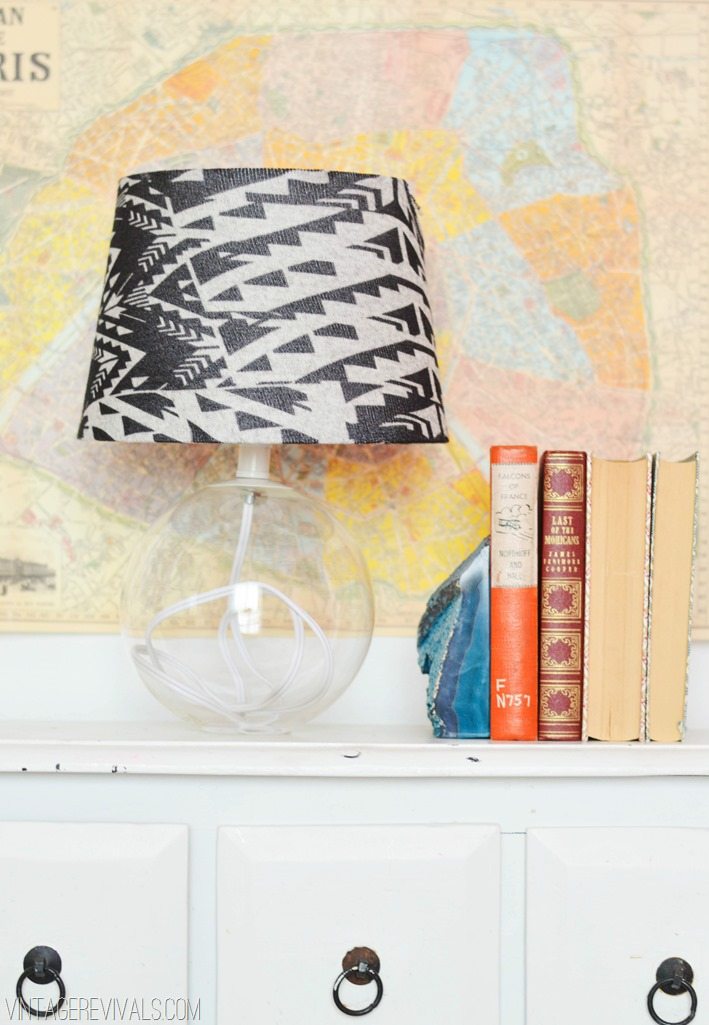 A few things that I learned:
Buy the largest size that you can find.  I wouldnt go smaller than at least a medium.

Shop the stuff you already have.  I mean, dont lie.  Everyone has at one time or another bought some funky tights at Forever 21 that you were a little too scared to wear once you got them home and showed your husband.  Those? Perfect for this project.
Can you even believe that this is such an easy fix for a boring/ugly lampshade?  If Billy Mayes were alive and sold blog posts on infomercials he would be lovin this idea. (Did anyone else love that show as much as Court and I did?)
Make sure you check out the other posts in the Mandilicious Christmas series!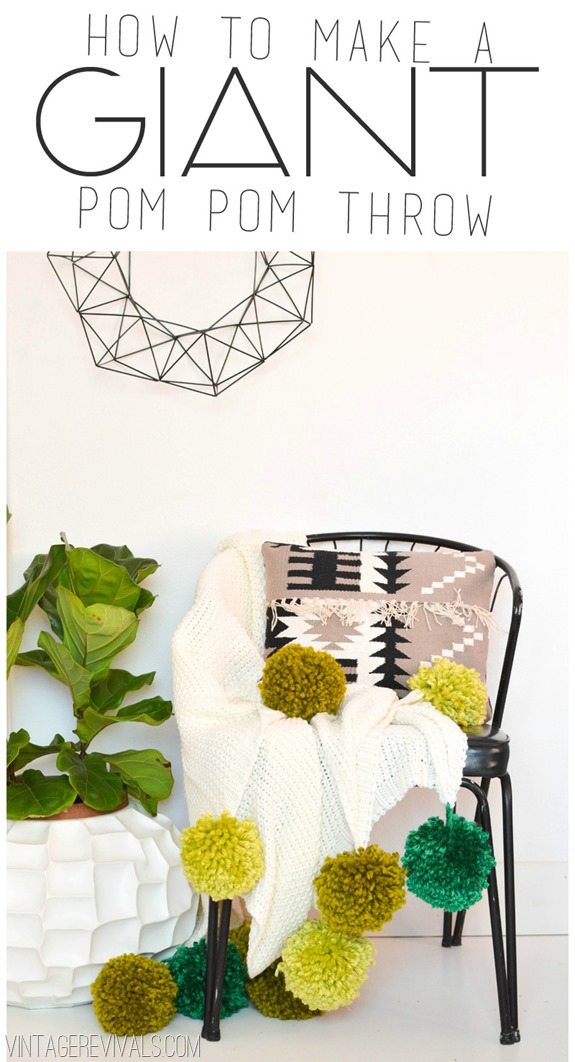 Source: http://vintagerevivals.com
Collected by: http://howtomakediy.net