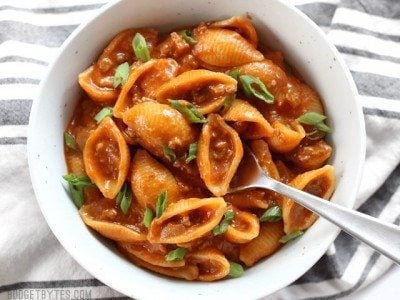 Cheeseburger Pasta Skillet Recipe
Skillet Cheeseburger Pasta is a fast and easy "from scratch" version of the classic hamburger helper boxed dinner.
Total Cost $7.19 recipe / $1.80 serving
Prep Time10minutes
Cook Time25minutes
Total Time35minutes
Ingredients
1yellow onion $0.16
1Tbspolive oil $0.16
1/2lb.lean ground beef $3.84
2Tbspall-purpose flour$0.02
8 oz.cantomato sauce $0.69
2cupsbeef broth$0.26
1/2 lb.pasta shells, uncooked$0.50
4oz.shredded sharp cheddar $1.20
2Tbsphot dog relish$0.16
2green onions, sliced (optional)$0.20
Instructions
Finely dice the onion. Add the olive oil, onion, and ground beef to a large deep skillet and sauté over medium heat until the beef is fully browned and the onion is soft and transparent. Drain off any excess fat, if needed.

Add the flour to the skillet and continue to stir and cook for one minute more. The flour will form a paste that may coat the bottom of the skillet. Be careful not to let the flour burn.

Add the tomato sauce, broth, and pasta to the skillet. Stir to combine the ingredients and dissolve any of the flour off the bottom of the skillet.

Place a lid on the skillet, turn the heat up to medium-high, and let the liquid come up to a boil. Once it reaches a boil, give it a quick stir, replace the lid, and turn the heat down to medium-low. Let the pasta simmer, stirring occasionally, for 10-12 minutes, or until the pasta is tender and the sauce has thickened. Turn the heat off.

Add the cheddar, a handful at a time, and stir until it has melted into the sauce. Stir the hot dog relish into the sauce and then top with sliced green onions. Serve hot.